STEM based leaning is at an uptrend and with very positive results; it is inspiring students all across the globe to be real learners and not just bookworms. For people who are unaware what STEM based learning means, the abbreviation stands for Science, Technology, Engineering and Mathematics. These subjects have been though in schools and collages for centuries, but we have ignored the fact that these subjects are co related and as individual subjects they lose their practical applications. With the STEM based learning a student is taught the co relation between these subjects.
Success for any education system is dependent how much it can motivate a student to learn, every student has his own motivation factors. Example some may get motivated by the Higher marks, while others may be motivated by social side of school, interacting with classmates. Toys and games can be used as a successful tool to motivate students to learn, and a perfect toy to teach STEM based learning to children is robotic toys.
?
A professional roboticist Mohit Bhoite once told me "While building a robot, a child is confronted with challenges at every step. For example, it needs to scout for components for the robot. It needs to ponder on how the structure of the robot be built and how can the weight constraint of the robot be overcome. If the algorithm is not working as expected then that too needs to be figured out. The child is never deterred by these challenges because basically he is motivated. When building this is a team effort them he is learns team skills too."
?
Autodesk seems to have understood this fact and has created an App based design tool called Autodesk Tinkerplay. The app has a vast library of parts which can be used to mix and match and create a unique character. The tool uses a drag and drop input system which means no real designing is needed; it makes for an extremely simple to use and enjoyable experience for children to design a toy.
All the parts in the Tinkerplay library are carefully selected, and none of them need post processing like removing support material after they are 3d printed. Samir Hanna, vice president and general manager, Autodesk Consumer and 3D Printing said "Creators, designers and makers from ages five to ninety, have blown us away with their passion for 3D modeling and 3D printing. With Tinkerplay, we're providing another great tool designed for kids of all ages who want to play, create and tinker."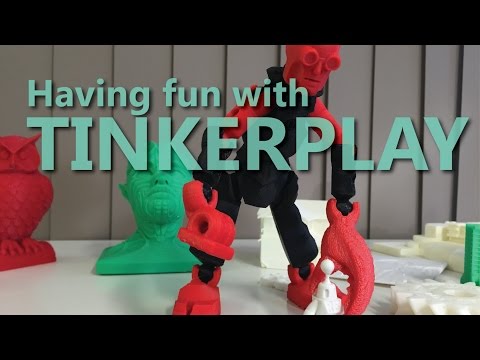 The Tinkerplay app is available for free download App Store, Google Play or the Windows Store. But are we not ignoring the fact that everybody may now own a 3d printer, where do you get a 3d print of the toy you made on Tinkerplay ? Here's when Hubs the biggest online 3D printing service platform comes to the rescue.
To inspire the creative geniuses inside our younger generation, Hubs has announced a contest in collaboration with Autodesk. The contest runs from June 22nd until June 28th, you can get a 3d printed version of your Toy designed on Tinkeplay by just sharing your design on Facebook or Instagram, with the hashtag #3dhubsxrobot. Every day they would choose a winner based on the creativity and uniqueness of the Robotic design.
Image & Video Credit:Tinkerplay&Mmuse